Appraisals During Covid-19
We have outlined some recommendations and updates for Home Equity, Portfolio and Servicing loans based on our current situation. Fannie Mae has provided some extra guidance on inspections and even allowing desktop appraisals to be used as an option. Based on the loan transaction, lenders can consider deploying a cascade of products, which we will outline below. Fannie Mae has recently released a Q&A which outlines instruction for Origination, Appraisals and Quality Control, we can provide this document if you are not already familiar with it.
The GSEs provided temporary guidance on appraisal requirements on March 23, 2020. After reviewing the guidance and talking to the GSEs, this memo provides our product recommendations regarding the new guidance.
First, for Home Equity, Portfolio and Servicing valuation products, we do not recommend a change. We recommend that AVMs, Evaluations, Desktop Appraisals, and Traditional Appraisals continue to be used in proactive product cascades during this time. Since things are evolving quickly, we will let you know if this recommendation changes.
Second, when Traditional Appraisals cannot be used (which we will continue to provide), our recommendations for first mortgage originations pursuant to yesterday's guidance are provided in the chart below. To keep everything uniform, we utilized the GSE product matrix and added a column to indicate which valuation product we recommend for each scenario.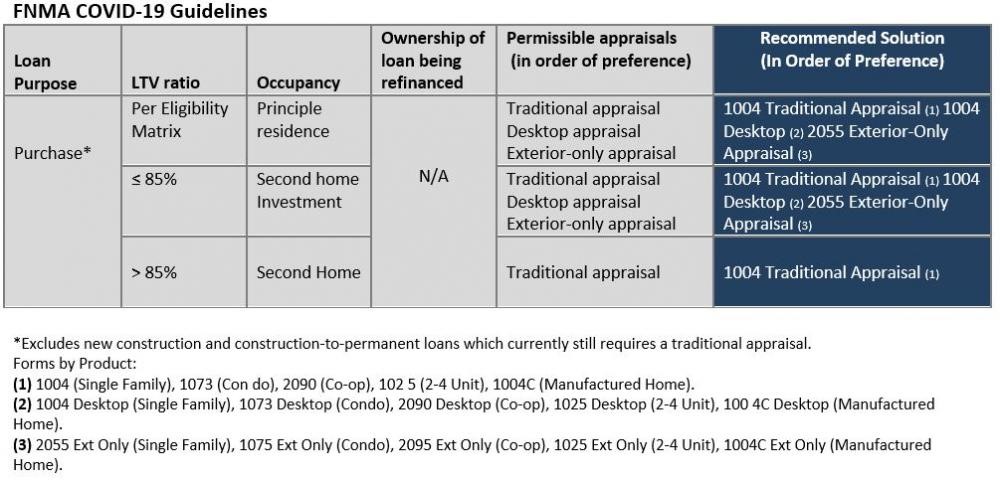 In addition a recent Q&A Fannie Mae indicated that if needed, an appraiser can rely on photos and information provided by the homeowner.  The modified language for the scope of work, statement of assumptions and limiting conditions, and certifications allow for this by removing certification #10 in a standard 1004.  The appraiser just needs to state that where they received their information.  Please see the following from the lender letter:
"It is important to note that certification #10 has been removed in recognition that the appraiser may have relied on information from an interested party to the transaction (borrower, realtor, property contact, etc.) and additional verification may not have been feasible. Appraisal reports submitted to us using the flexibilities provided in this Lender Letter must include these documents with the modified language for scope of work, statement of assumptions and limiting conditions, and certifications."